Clear Lake
Houston Plastic and Reconstructive Surgery
575 East Medical Center Boulevard
Webster, TX 77598
Phone: (281) 282-9555
Monday–Friday: 8 a.m.–5 p.m.

Med Center/Museum District
Houston Plastic and Reconstructive Surgery
1801 Binz Street #300
Houston, TX 77004
Phone: (713) 521-4777
Monday–Thursday: 8 a.m.–5 p.m.

About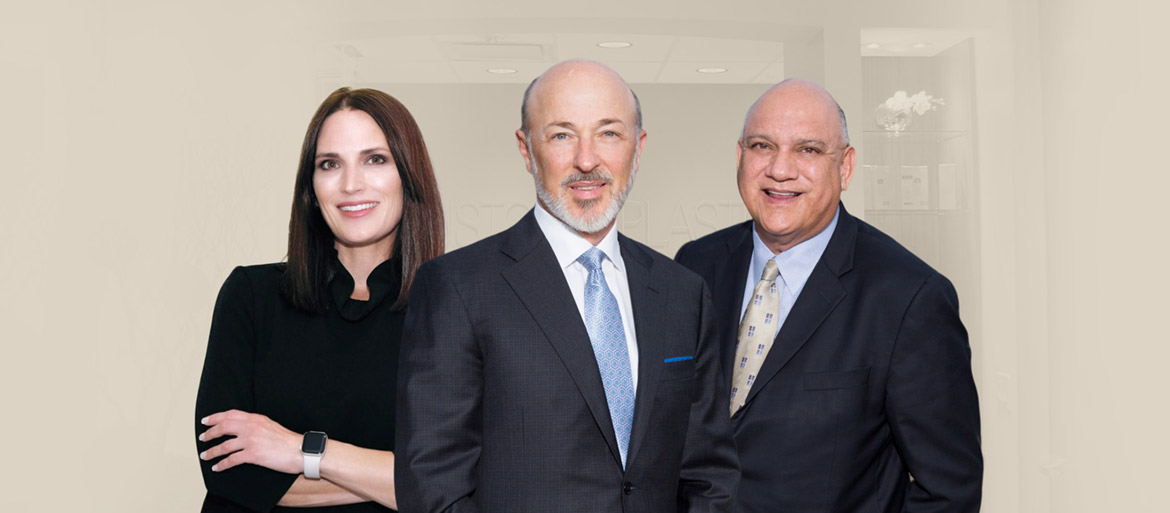 After making the personal—and exciting—decision to enhance your appearance through cosmetic plastic surgery in Houston, the most important choice you make is selecting a plastic surgeon who combines expertise, trustworthiness, and compassion. At Houston Plastic & Reconstructive Surgery, our board-certified plastic surgeons have earned the trust of thousands of patients by providing world-class, compassionate care and producing excellent results.  
Our Philosophy
The foundation of our plastic surgery practice rests on 3 fundamental concepts: 
Credibility: Our surgeons' credentials are unsurpassed. Besides being certified by the American Board of Plastic Surgery (ABPS), they've taught and mentored an upcoming generation of surgeons and earned numerous professional accolades.  
Ethics: We earn patients' trust by being honest. Our surgeons won't recommend additional procedures and will recommend less invasive approaches when that's the best way to achieve your goals. We put your safety and interests above all else.  
Excellence: We use our expertise to perform procedures with skill and compassion, ensuring you get the best possible outcome.  
Exceptional Surgeons & Staff
Each team member emphasizes one-on-one patient care conducted professionally and with discretion. The gifted plastic surgeons at Houston Plastic & Reconstructive Surgery—Dr. Clayton Moliver, Dr. Fred Aguilar, and Dr. Kimberly Carpin—listen closely to patients describe their aesthetic goals and craft surgical plans that accomplish them. Their down-to-earth manner, honest advice, and desire to answer your questions will immediately put you at ease. 
Our surgeons are supported by a caring, friendly, and experienced staff, many of whom speak Spanish fluently. Our knowledgeable aestheticians and injectors, as well as our plastic surgeons, also provide a range of nonsurgical treatments if you want to rejuvenate your appearance and spirit.
State-of-the-Art Facilities
Away from the hurried atmosphere of the hospital setting, our Clear Lake office in Webster, TX, is a well-appointed haven where you'll find all the touchstones you need to be transformed into a more beautiful, confident you. Our Quad A-accredited surgery center is conveniently located onsite at our Webster location. 
We offer only the most advanced, clinically proven MedSpa treatments. We build durable relationships with patients who return to maintain their results, providing honest and ethical advice and conducting the procedures with expertise. We sustain you on your journey to a healthy lifestyle by making referrals to nutritionists, fitness coaches, and others. 
Start With a Consultation
Learn more about our practice, surgeons, and med spa providers by using the online form to request a consultation or call us at (281) 282-9555 to schedule an appointment.  
Back to Top