Clear Lake
Houston Plastic and Reconstructive Surgery
575 East Medical Center Boulevard
Webster, TX 77598
Phone: (281) 282-9555
Monday–Friday: 8 a.m.–5 p.m.

Med Center/Museum District
Houston Plastic and Reconstructive Surgery
1801 Binz Street #300
Houston, TX 77004
Phone: (713) 521-4777
Monday–Thursday: 8 a.m.–5 p.m.

Symmastia (Uniboob) Repair
Many women who have breast enhancement surgery want to attain beautiful cleavage. Unfortunately, in rare cases, the results don't turn out as planned and the breasts lack this natural separation, looking like a "loaf" or "uniboob" instead. Board-certified plastic surgeon Dr. Clayton Moliver is renowned for his breast enhancement surgery expertise and is a symmastia repair specialist. Women come to Houston Plastic and Reconstructive Surgery in Webster, TX, from throughout the U.S. and other countries for Dr. Moliver's extensive experience as a researcher and breast revision surgeon.
Symmastia Repair

Before & After Photos
WARNING:
This feature contains nudity. Please click OK to confirm you are at least 18 years of age and are not offended by such material.
What Is Symmastia?
Symmastia was first described by Dr. Robert Spence in 1983 as the "medial confluence of the breasts,"1 which means that the breasts shift too far toward the midline of the chest. Also called uniboob, webbed boobs, and bread loafing, symmastia is very rare. In a small number of patients, it is congenital and develops during puberty. More often, symmastia develops after breast surgery.
Congenital Symmastia
Congenital symmastia is a very rare deformity of the breasts. Patients do not develop a single breast in the middle of the chest. Instead, during puberty, breast tissue and fat form between the breasts because the skin is not attached to the sternum. Cleavage, technically called the intermammary sulcus, does not form, and the skin lifts between the breasts like a tent.
Congenital Symmastia Repair Before & After Photos
Keep in mind that each patient is unique and your results may vary.
This 21-year-old college student with congenital symmastia came to see Dr. Moliver for symmastia repair after first considering it at age 16. He performed liposuction between the breasts and removed excess tissue along the midline that spanned beneath the skin down to the sternum. He then sutured the skin to the sternum in the midline using a spiral stitch and an absorbable barbed suture.
The patient is shown before and 3 months after having Dr. Moliver perform her symmastia repair.
Acquired (Iatrogenic) Symmastia
The majority of symmastia cases develop after breast surgery, although it is a rare complication. Patients may notice problems right away, after the normal post-surgical swelling dissipates, or when muscle connections gradually give way. Risk factors for acquired symmastia include:
Thin women seem to be more prone to develop symmastia after breast augmentation than others because they typically have less tissue or fat covering the sternum.
Breast implants placed too close together during breast augmentation surgery may lead to symmastia. This is often because the surgeon has attempted to increase the cleavage.
Implants that are too large for the patient's body can cause the skin to pull away from the sternum, especially if the patient has thin skin.
Pre-existing deformities in the chest wall, such as a sternum that curves inward (called pectus excavatum) may also cause symmastia.
Symmastia Repair After Breast Augmentation Before & After Photos
Keep in mind that each patient is unique and your results may vary.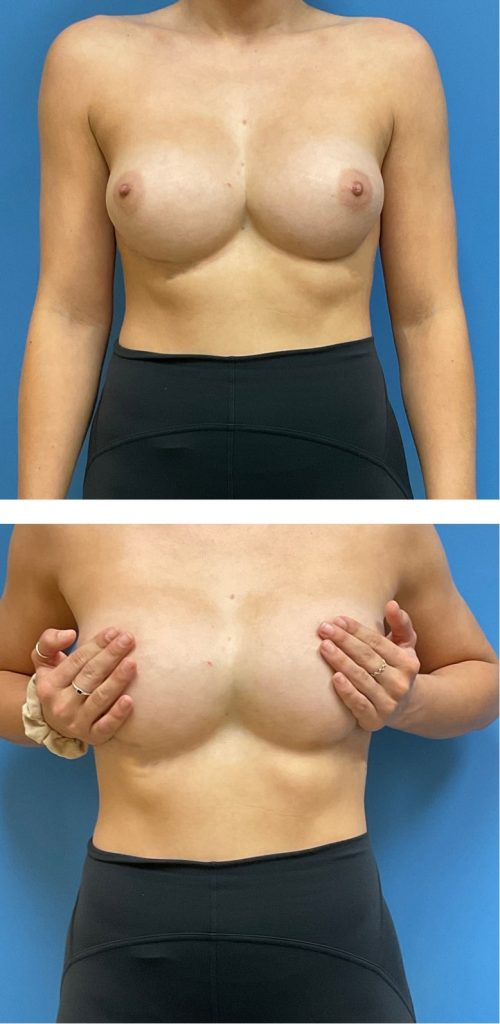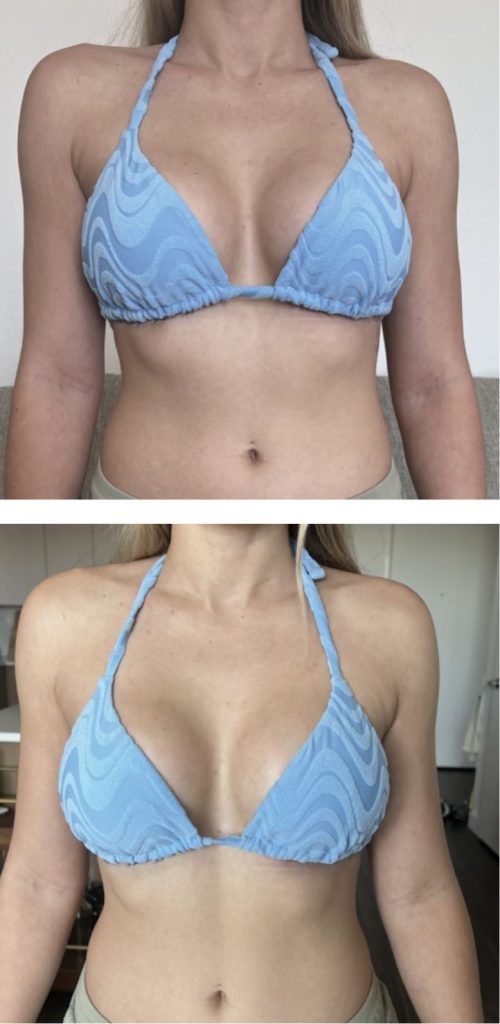 This 26-year-old woman had breast augmentation performed elsewhere, with implants placed behind the muscle through breast crease incisions. Within one month, she realized something was wrong; the skin had lifted off her sternum.
She traveled to Houston from another state to have Dr. Moliver perform symmastia repair. He used the old incisions and found that the patient's pectoral muscles were torn loose from the sternum on both the left and right sides. During the 2-hour surgery, Dr. Moliver repaired the pectoral muscles, replaced the 405 cc Natrelle® SRM implants with 375 cc Natrelle SSM implants, and placed them above the chest muscle (subglandularly).
The patient is shown before and 4 weeks post-op trying on a new bikini top. Because she was from out of state, she stayed in Houston for about 4 days. The patient followed a non-narcotic protocol to control post-op pain and was back to all activities within 6 to 8 weeks.
Why Choose Dr. Moliver for Symmastia Repair?
Because symmastia is such a rare condition and correcting it is extremely complicated, symmastia repair should be performed by a qualified plastic surgeon. Dr. Moliver's impressive credentials make him exceptionally qualified to correct these unique cases. Highlights of Dr. Moliver's expertise include:
Renowned cosmetic breast surgeon
Worldwide authority on symmastia
Lead researcher in multiple published symmastia studies
Innovator of plastic surgery techniques and devices
Performed more than 9,000 cosmetic breast surgeries
International Authority on Symmastia
As one of the most respected symmastia experts in the world, Dr. Moliver has:
30+
Years of breast enhancement surgery experience
9,000
Cosmetic breast surgeries
50+
Symmastia repair procedures (the largest number in the world's literature)
Helped symmastia patients from across the U.S. and around the world
How Is Symmastia Diagnosed?
Dr. Moliver diagnoses symmastia by performing a physical examination that includes assessing implant placement when standing, flexing the chest muscle, and lying down. This condition involves one or more of the following concerns:
Implants shift to the midline of the chest.
Skin between the breasts is raised like a tent instead of lying flush against the sternum.
Skin lifts between the breasts when breasts are pushed together.
Nipples rotate toward the arms.
Implants bottom out.
Fat and breast tissue develop between the breasts.
Every time I Googled symmastia, the name that continued to pop up was Dr. Clayton Moliver.

Jordan, symmastia repair patient
Symmastia Treatments
Surgery is required to treat symmastia effectively. In most cases, the surgery requires a combination of the following techniques:
Preventing the implant from shifting across the midline by revising the breast pocket with a capsulectomy (removing the capsule), capsulotomy (removing part of the capsule), or capsulorrhaphy (tightening or reshaping the capsule).
Securing the Scarpa's fascia to the chest wall near the cleavage in a natural curve of the breast.
Re-stretching the chest muscle and reattaching it to the sternum.
Replacing the breast implants with smaller ones.
Changing subpectoral (below the chest muscle) implants to subglandular (above the muscle) placement.
Concealing the edge of the implants with fat grafting.
Symmastia Repair After Breast Augmentation Before & After Photos
Keep in mind that each patient is unique and your results may vary.
This 21-year-old patient, 5'3" and 92 pounds, had breast augmentation in Asia that involved submuscular placement through inframammary incisions. She developed symmastia immediately after surgery, where the skin lifted off her sternum.
One year later, this young woman came to see Dr. Moliver for symmastia repair. Using the old incision sites, he repaired the torn chest muscles, replaced the smooth silicone gel implants (335 cc on the left, 315 cc on the right) with Natrelle SRM (smooth, round, moderate plus profile) 275 cc silicone gel implants, and placed them over the muscle.
The patient is shown approximately 3 months after surgery when she was allowed the full range of motion in her arms and no restrictions on activities.
Primary Author of Multiple Symmastia-Related Studies
An internationally recognized authority on symmastia repair, Dr. Moliver is the primary author of multiple studies published in respected publications such as Aesthetic Surgery Journal and Plastic and Reconstructive Surgery, which include:
Your Consultation
Dr. Moliver sees symmastia repair patients from Texas, other states, and other countries for his specialized knowledge and expertise. The initial consultation can take place in our Houston office or virtually. Our knowledgeable staff will assist with the logistics of travel and accommodations when needed.
Your Surgery
Dr. Moliver performs symmastia repair as an outpatient procedure at our private state-of-the-art, fully accredited surgery center. The surgery lasts approximately 1 to 3 hours while the patient is under general anesthesia. The specifics of the surgery vary with patient needs. Whenever possible, Dr. Moliver uses the same placement for incisions as the original procedure.
Recovery After Symmastia Repair
Patients need a responsible adult to drive them home after the procedure and provide at least 24 hours of in-home care. In most cases, non-narcotic pain medication is enough to control discomfort.
To avoid straining the repairs, patients must take the following precautions after surgery:
Wear a Thongbra® (http://www.thongbra.com/) with a regular surgical bra over it 20 hours a day for 6 weeks.
Limit arm motion by keeping the arms and elbows tightly adducted (held at their sides) for 6 weeks. Dr. Moliver tells patients, "Be like a T-Rex with little arms that don't move much."
Photo courtesy of Thongbra, Inc.
Symmastia FAQ
Is it important to choose a specialist for symmastia repair or can I have my breast augmentation surgeon do the surgery?
Symmastia is typically the result of an inexperienced surgeon, so it is wise to consult with a specialist like Dr. Moliver who is experienced in determining the cause of the problem and understands how to treat it effectively.
My plastic surgeon said it's swelling, not symmastia. How long should I wait to see a specialist?
Swelling is normal after breast surgery. It is not normal for the skin to lift up from the sternum or for the breasts to move to the midline. Consult with a specialist as soon as possible to optimize the outcome of your repair.
Can symmastia be fixed by replacing my implants with smaller ones?
Reducing the size of the breast implants is often part of symmastia repair procedures; however, additional corrections are typically required.
Will my symmastia get worse if it's not corrected?
If you have symmastia, it will not get better on its own. Surgical correction is the only solution.
Can I get larger implants when my symmastia is repaired?
It is unlikely that larger implants will be feasible. Dr. Moliver will recommend the best choice during your consultation.
Can symmastia develop after a breast reduction or lift?
Dr. Moliver has seen patients with what he calls "pseudo-symmastia" after breast reduction or breast lift surgery performed elsewhere. He can repair this condition in the same manner as congenital symmastia.
1. Spence RJ, Feldman JJ, Ryan JJ. Symmastia: the problem of medial confluence of the breasts. Plast Reconstr Surg. 1984;73(2):261-269.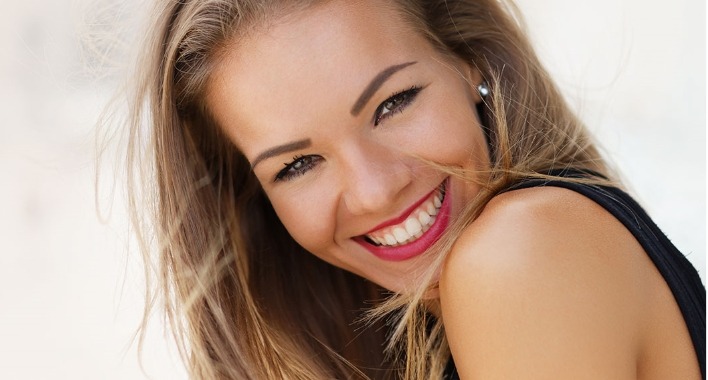 Model
Payment Options
We'll work with you to make your aesthetic dreams come true. We offer flexible financing plans to meet most budgets.
Learn More
Model
Back to Top