Clear Lake
Houston Plastic and Reconstructive Surgery
575 East Medical Center Boulevard
Webster, TX 77598
Phone: (281) 282-9555
Monday–Friday: 8 a.m.–5 p.m.

Med Center/Museum District
Houston Plastic and Reconstructive Surgery
1801 Binz Street #300
Houston, TX 77004
Phone: (713) 521-4777
Monday–Thursday: 8 a.m.–5 p.m.

Breast Enhancement
Working at the forefront of cosmetic breast enhancement, our board-certified plastic surgeons provide women in Houston and surrounding communities with the most advanced breast surgery options available.
If you are looking for a breast enhancement surgeon in Houston or Webster, TX, request a consultation online to meet personally with one of the plastic surgeons at Houston Plastic and Reconstructive Surgery. Or call our office at (281) 282-9555 and a member of our staff will help schedule an appointment.
Cosmetic Breast Enhancement
We understand choosing to undergo cosmetic breast surgery is a very personal decision. Our surgeons and medical staff are extremely sensitive to your needs and provide the highest level of attention and care from consultation to procedure completion. We are committed to providing the utmost in patient education and will provide you with all the resources and information you need to make a confident and well-informed decision about your treatment plan.
We're also proud to offer some of the latest innovations in the field, including the Keller Funnel®, a device that allows us to create beautiful breast augmentation results with smaller incisions. Since the funnel eliminates any contact between the implant and the surgeon's gloves or the patient's skin, the procedure is very sterile and has less risk of certain complications.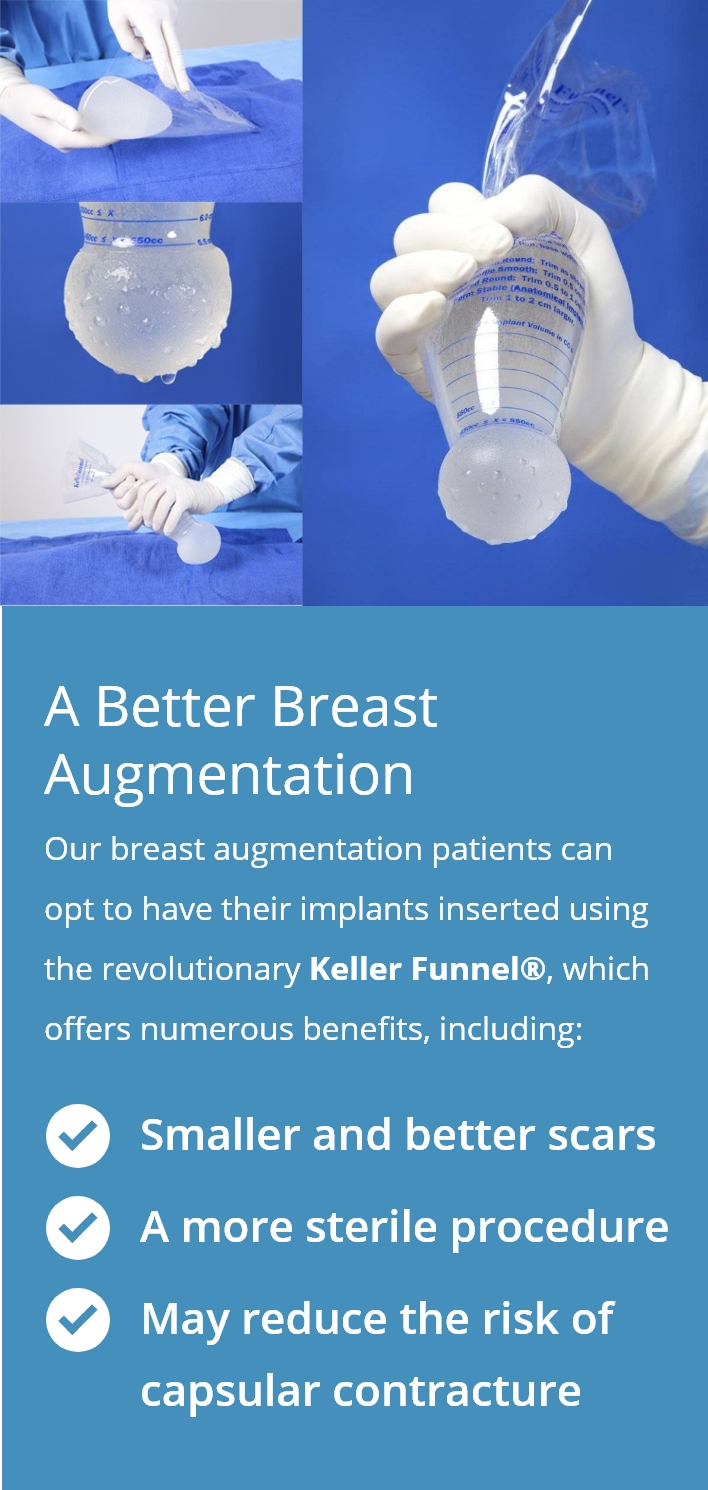 Cosmetic breast surgery can enhance a woman's curves or rejuvenate and lift the bustline to correct the effects of aging or pregnancy. When it comes to aesthetic breast surgery, there are a variety of surgical options available that can improve the shape, size, and fullness of breasts, including:
Back to Top