Houston Plastic and Reconstructive Surgery
575 East Medical Center Boulevard
Webster, TX 77598
Phone: (281) 282-9555
Monday–Friday: 8 a.m.–5 p.m.

Breast Enhancement
Dr. Clayton Moliver is recognized internationally as one of the world's leading cosmetic breast surgeons. Working at the forefront of cosmetic breast enhancement, Dr. Moliver provides women in Houston and surrounding communities with the most advanced breast surgery options available.
If you are looking for a breast enhancement surgeon in Houston or Webster, TX, request a consultation online to meet personally with Dr. Moliver. Or call our office at (281) 282-9555 and a member of our staff will help schedule an appointment.
Cosmetic Breast Enhancement
We understand choosing to undergo cosmetic breast surgery is a very personal decision. Our surgeons and medical staff are extremely sensitive to your needs and provide the highest level of attention and care from consultation to procedure completion. We are committed to providing the utmost in patient education and will provide you with all the resources and information you need to make a confident and well-informed decision about your treatment plan.
We're also proud to offer some of the latest innovations in the field, including the Keller Funnel®, a device that allows us to create beautiful breast augmentation results with smaller incisions. Since the funnel eliminates any contact between the implant and the surgeon's gloves or the patient's skin, the procedure is very sterile and has less risk of certain complications.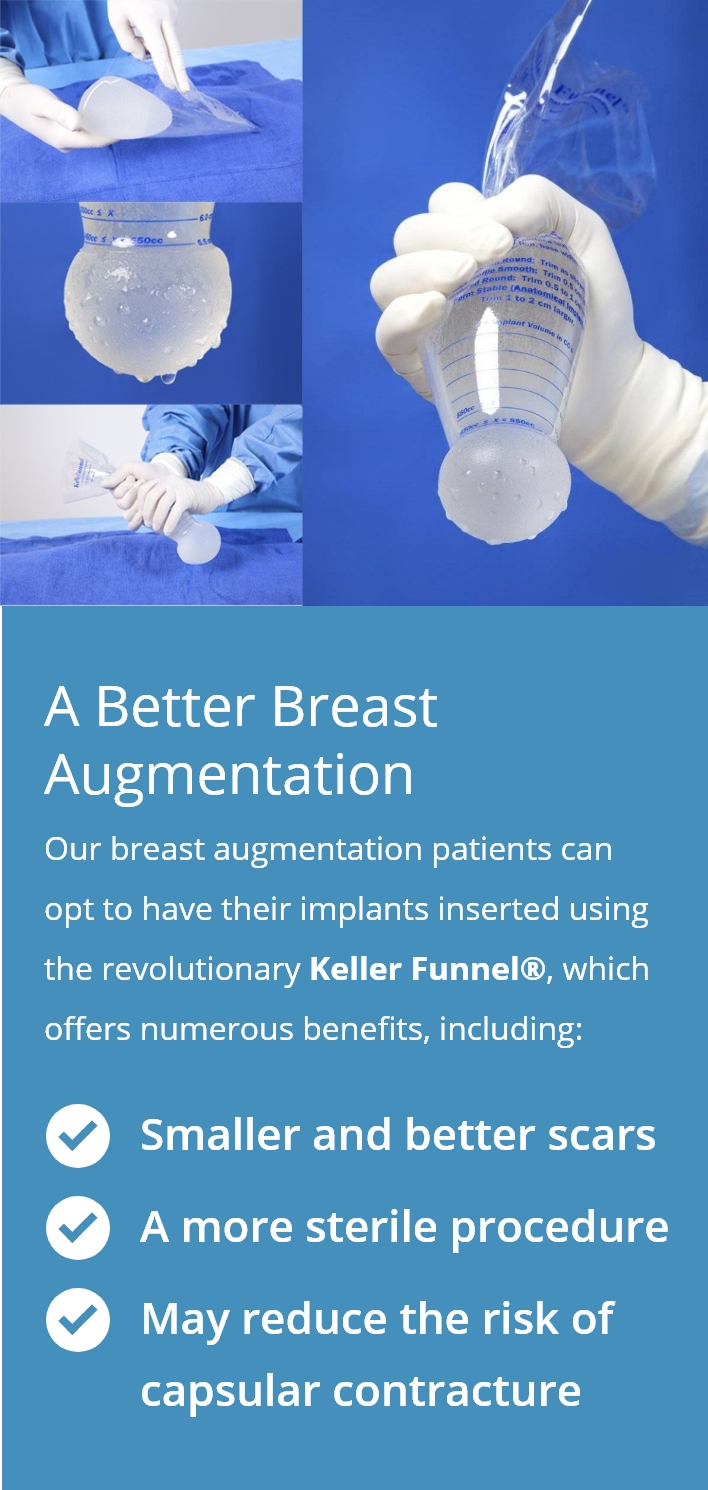 Cosmetic breast surgery can enhance a woman's curves or rejuvenate and lift the bustline to correct the effects of aging or pregnancy. When it comes to aesthetic breast surgery, there are a variety of surgical options available that can improve the shape, size, and fullness of breasts, including:
Breast Augmentation: Breast augmentation, also known as breast implant surgery, is one of the most popular cosmetic procedures each year, and is performed to enhance the size and shape of a woman's breasts.
Breast Implants: Women considering breast augmentation have more breast implant options — including size, shape, and implant material — than ever before, including highly cohesive MemoryShape® breast implants.
Breast Implant Exchange: There are many reasons women decide to exchange breast implants, ranging from wanting a different size to replacing aging implants.
Breast Implant Removal: For a variety of reasons, women may elect to have their breast implants removed, which requires the skill of a breast specialist to ensure an aesthetically pleasing outcome.
Breast Reduction: Breast reduction, also known as reduction mammaplasty, reduces the size of overly large breasts to achieve a more balanced and proportionate figure.
Breast Lift: A breast lift focuses on reshaping and raising the breasts to a more elevated and youthful position.
: Breast revision surgery is sometimes needed to correct complications, including symmastia, which is sometimes called "bread loafing." It occurs when the implants are positioned too close together.
Breast Surgery Resources: Find links to specialized websites, including plastic surgery professional associations and the FDA.
Back to Top