Clear Lake
Houston Plastic and Reconstructive Surgery
575 East Medical Center Boulevard
Webster, TX 77598
Phone: (281) 282-9555
Monday–Friday: 8 a.m.–5 p.m.

Med Center/Museum District
Houston Plastic and Reconstructive Surgery
1801 Binz Street #300
Houston, TX 77004
Phone: (713) 521-4777
Monday–Thursday: 8 a.m.–5 p.m.

Chemical Peels
Chemical peels are a widely-used method of skin resurfacing in many MedSpas. This technique can help you achieve a softer, more even-toned complexion by peeling away the dull surface layer to reveal the new, glowing skin underneath. During this treatment, a chemical solution is carefully applied to the skin under the watchful eye of a cosmetic specialist, eventually removing the damaged skin along with the solution when it is rinsed away. Chemical peels are among the least invasive procedures aimed at transforming the texture and tone of your skin, ideal for patients looking for a potentially mild and gentle solution to acne and/or acne scarring, fine lines, uneven tone, sun damage, dry or rough patches, hyperpigmentation and freckles, among other facial skin issues. Chemical peels we offer include the VI Peel™, glycolic peel and TCA peel.
If you're considering MedSpa services but these treatment options are new to you, Houston Plastic and Reconstructive Surgery can help. We may have a long-standing client base in our Houston practice and beyond, but we also welcome new patients to let us help guide them through their plastic surgery experience, providing high-quality care for minor MedSpa day treatments, major surgery, and everything in between. Our chemical peels are administered by our medical aesthetician in a safe and professional environment. And in our aim to approach every treatment holistically, we will also advise on the best after-care and maintenance just for you.
Highly Qualified Team
Whatever your cosmetic needs, with the range of services we offer here at Houston Plastic and Reconstructive Surgery, you're sure to find the right MedSpa treatment for you. Our plastic surgeons have spent years performing a wide range of both MedSpa treatments and precise plastic surgery procedures. Under their supervision, our medical aesthetician performs treatments that make a real difference in the look and feel of your skin. When you choose our MedSpa, you will be cared for by a team of outstanding professionals, and have the added benefit of receiving care at our high-tech facility. Get started with a consultation today to see what a chemical peel can do for you!
Meet Our Plastic Surgeons
Each plastic surgeon on our team has the training, experience, and talent needed to provide the natural-looking results patients want while ensuring their safety and comfort.
Request Your Consultation
Request Your Consultation
What is a VI Peel Treatment?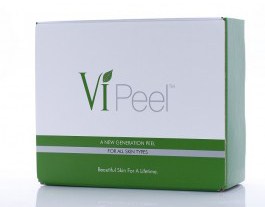 VI Peel is a type of chemical peel that is used to improve the skin's appearance and treat conditions such as acne, acne scarring, sun spots, age spots, sagging skin, fine lines, wrinkles, enlarged pores, hyperpigmentation, and uneven skin tone and texture. It can also help remove precancerous cells. VI Peel treatment works by using a medical-grade chemical solution to remove the skin's upper layers and allow a fresh and smoother new layer of skin to grow.
Why Get a VI Peel?
A VI Peel brightens the general appearance of skin and improves collagen production, making patients look younger. Unlike most other types of chemical peels, VI Peel treatment is virtually painless. It also has no or very minimal downtime, allowing patients to return to their normal activities immediately. The light peeling that occurs after the treatment can be easily concealed by using a moisturizing product. If you're considering getting a VI Peel in Houston, this treatment is safe and effective for all skin tones and skin types.
Who Should Get a VI Peel?
While anyone can get a VI Peel since it works on all skin types, it is particularly helpful in safely managing acne even in young patients (at least 12 years old). It is also effective to be used on people who may not respond well to other chemical peels, such as those with darker skin tones, including Asians, Latinos, and African-Americans.
How is VI Peel Performed?
Unlike older methods of chemical peels, there is no need for the skin to be preconditioned prior to a VI Peel. This treatment involves the topical application of the chemical peeling solution to the skin. Light stinging may be experienced during the application but this subsides shortly. The treatment session can take up to half an hour. The patient leaves the clinic with the solution sitting on the skin because it has to stay there for five hours, after which it is rinsed by the patient.
What Happens After the Treatment?
After five hours following the treatment, the patient washes off the treated skin. The skin may appear tan or red at this point but this will be gone shortly. Patients are able to immediately return to their normal activities after the treatment. They should just take care about accidentally wiping off or washing off the solution if the five hour period is not up. However, strenuous exercise must be avoided. Two days after the treatment, the peeling process will begin and can last up to a week. During this process, patients cannot use make-up but using moisturizers is allowed to help mask the appearance of peeling skin. It is very important that patients avoid sun exposure during the peeling period.
When Will Patients See Results?
Typically, patients notice results as early as a few days after a VI Peel. There will be an overall visible improvement to the skin's texture and tone. Patients get a fresh glow to their skin. It looks more youthful and the skin feels smoother.
Where to Get this Treatment?
If you're planning to get a VI Peel in Houston, Texas, you can learn more about it by consulting personally with one of our plastic surgeons. To set up a no-obligation appointment, please call (281) 282-9555 now.
Glycolic Chemical Peel
Glycolic peel is one of the most popular chemical peel treatments. It is very mild and uses a naturally occurring substance that gently brightens the skin.
What is a Glycolic Chemical Peel?
This chemical peel uses glycolic acid, an organic and non-toxic fruit acid or alpha-hydroxy acid (AHA) that is derived from sugar cane. High concentrations of AHAs (40 to 70 percent) are effective in causing superficial skin peeling. Glycolic acid gently exfoliates the skin to clear clogged pores of sebum. It penetrates the most superficial skin layer to eliminate dull and dry skin.
Why Get a Glycolic Chemical Peel?
Consider getting glycolic chemical peel in Houston, Texas, if you're looking for a gentle peeling treatment. Compared with other types of chemical peels, a glycolic chemical peel practically has no downtime. Mild irritation and redness are the only possible after-effects. Since the peel is only superficial, this treatment is very safe and allows patients to return to work and other regular activities immediately.
Who Should Get a Glycolic Chemical Peel?
Glycolic acid chemical peel is perfect for people suffering from excessively oily skin. It is also recommended to anyone who wants to refresh and rejuvenate dull, rough or sallow skin. It can improve conditions like fine lines, acne and mottled pigmentation. Because it virtually has no downtime, glycolic chemical peel is ideal for busy people who are looking to improve their skin but cannot afford any interruption to their activities.
How is Glycolic Chemical Peel Performed?
During a glycolic chemical peel, the technician or physician applies the solution to the skin using a sponge. The solution is left to rest on the skin for a specific period of time depending in the concentration of the solution to allow it to penetrate the skin. Then, the solution is rinsed off with water.
What Happens After the Treatment?
Right after the treatment, there might be some burning sensation and skin redness but they usually go away quickly. Those with very fair or sensitive skin, however, may experience redness for hours or possibly up to a week. Patients are asked to avoid using makeup and other skincare products for up to three hours after the treatment. Patients should also avoid products with glycolic or retinoic acid for three days after the peel. While the recovery time is almost non-existent, maintenance is still of utmost importance after any peel. The treated skin will be more sensitive to sun exposure, so regular use of sunscreen is necessary.
When Will Patients See Results?
A glycolic acid peel produces gentle results that might not be as visible as patients would like. Oftentimes, one session is not enough to get the best results. An effective treatment typically involves a series of peels, which can be done every two weeks or once a month until the desired outcome is achieved. A patient may receive unlimited number of glycolic chemical peels but usually six sessions are enough.
Where to Get this Treatment?
If you're interested in a glycolic chemical peel, simply schedule a personal consultation with one of our plastic surgeons and receive a professional and personalized assessment of your skin.
TCA Chemical Peel
A TCA chemical peel works deeper in the skin to produce dramatic results and resolve severe skin imperfections. This treatment gets rid of dead skin cells to reveal a more vibrant and smoother layer of skin.
What is a TCA Chemical Peel?
TCA stands for trichloroacetic acid, which is the main ingredient used in this type of chemical peel. A TCA chemical peel is classified as medium grade because it penetrates deeper than the superficial layer of the skin, all the way through the epidermis to reach the topmost layer of the dermis. It is, therefore, important to take a careful approach when looking at options for TCA chemical peels in Houston to prevent potential injuries.
Why Get a TCA Chemical Peel?
A TCA peel improves skin appearance and texture to fend off signs of aging and achieve an even skin tone. It is particularly helpful in addressing hyperpigmentation, acne, wrinkles and fine lines. A TCA chemical peel can be performed on damaged skin on any part of the body. It is also used to eliminate precancerous lesions on the skin caused by sun damage.
How is TCA Chemical Peel Performed?
Prior to the treatment, the physician cleans the patient's skin. Then, a chemical paste or liquid is applied to the skin using a tiny brush or other small cotton-tipped tool. The physician lets the solution stay on the skin for a few minutes longer than a superficial peel for deeper penetration. Afterwards, the acid is neutralized with water or alcohol and then wiped off. Since TCA is a stronger chemical peel than a superficial peel, pain relievers or oral sedatives may be given to patients to reduce sting and discomfort. A cool compress may also be used to reduce the burning sensation caused by the chemical. The treatment lasts around 40 minutes. Patients should allow at least a full month of interval between TCA peels, depending on the recommendation of the skincare professional.
Who Should Get a TCA Chemical Peel?
A TCA chemical peel is a great option for someone who can strictly follow the after-treatment recommendations, such as religiously wearing adequate sunscreen. It is preferred by individuals who can handle a week or so of downtime a few times a year over a superficial peel that has minimal downtime but should be done more frequently. A TCA peel is recommended over a deeper peel for darker skin types to obtain the benefits of a chemical peel with lesser risks.
What Happens After the Treatment?
A TCA peel is an outpatient treatment with recovery time usually taking a few days up to a week. As a medium peel, it actually burns the skin to a second-degree type of burn. So, the skin requires several days to heal before makeup can be applied to conceal redness. Within two to three days after the treatment, the skin will appear reddish brown. Crusts of skin will form and then peel off over the following days. Aside from redness and some swelling in the treated area, there should be no or very little pain after the treatment.
When Will Patients See Results?
Results are visible as soon as the skin has finished peeling. Skin improvements will continue for one to two months as long as the skin is kept protected from sun exposure.
Where to Get this Treatment?
Individuals who are looking to receive a TCA chemical peel or any other chemical peel treatment, should always seek a certified skincare professional. Contact us now to consult with a plastic surgeon about this treatment.
Back to Top