Pregnancy is a beautiful and rewarding process, but it can bring with it unwanted physical changes. Concerns such as loose skin, stretch marks, and breast changes often affect a woman's confidence after having children, and it can be especially frustrating when efforts like diet and exercise don't seem to make a difference. Mommy makeover procedures at Houston Plastic & Reconstructive Surgery are designed to help women feel like their best selves again through combined treatments customized for their needs.
In this blog post, we'll provide an overview of the most common post-pregnancy concerns and how a mommy makeover addresses them.
The Physical Effects of Pregnancy
Pregnancy affects each woman differently, but some changes are very common, including:
Weight gain: During pregnancy, the body stores extra fat. This can be exceptionally difficult to lose, especially around the midsection.
Breast changes: Hormonal changes throughout pregnancy and the breastfeeding process can cause significant fluctuations in the size of the breasts and nipples.
Stretched skin: Loose skin and stretch marks around the abdomen and the breasts are very common concerns for mothers. Abdominal muscles may also separate in a condition called diastasis recti.
When Exercise Isn't Enough
Diet and exercise are great first steps when it comes to restoring your pre-baby body. They can be particularly helpful for shedding extra weight and developing a healthy lifestyle in general. However, no amount of exercise can improve loose skin, stretch marks, or breast changes such as lost volume and sagging. Weight loss may even worsen the appearance of excess skin.
Getting into your best possible physical shape can help you decide whether surgery is right for you. If you feel you have done all you can do on your own and you still don't feel totally confident in your appearance, it may be time to explore the ways a mommy makeover can help you feel like your best self again.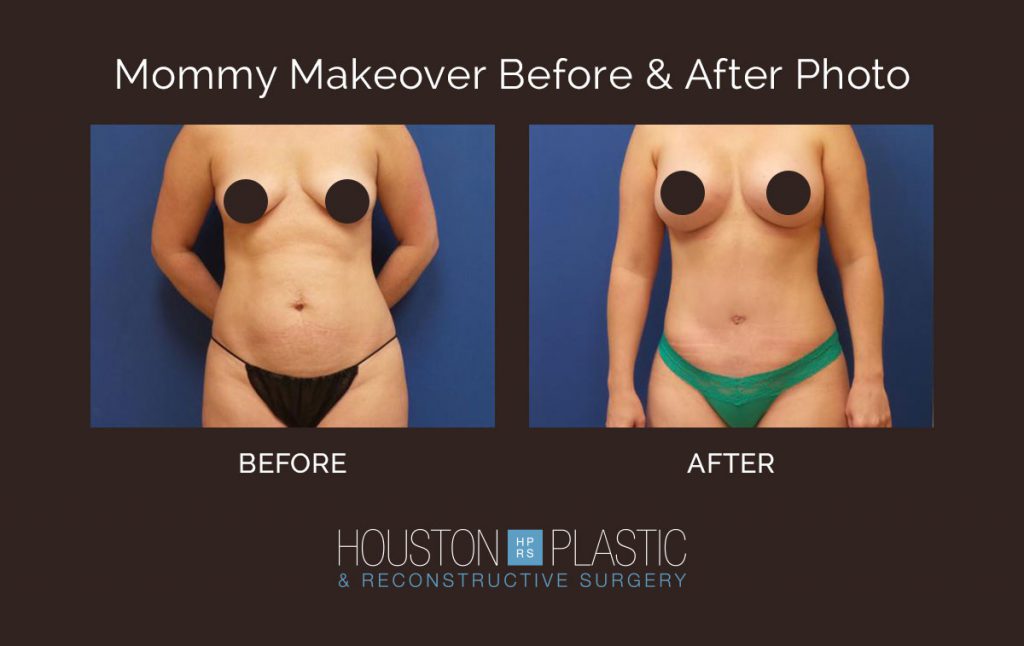 The Mommy Makeover Procedure
Mommy makeovers are fully customizable and typically consist of 2 or more of these procedures:
This lifts the breasts and nipples to a higher position on the chest, addressing sagging often caused by breastfeeding. It creates a more youthful shape, but it does not add volume or increase size.
Augmentation with implants increases the size of the breasts. In mommy makeovers, it's often combined with a lift to restore the breasts to their pre-breastfeeding appearance or correct symmetry issues.
Loose abdominal skin is a major concern after pregnancy, and this surgery is the most effective way to address it. It creates a slimmer, flatter midsection, and may remove stretch marks located on the lower abdomen. It can also correct diastasis recti by tightening separated abdominal muscles.
For stubborn fat deposits that resist diet and exercise, liposuction is a great solution. This procedure can suction fat away from the abdomen, thighs, flanks, or other troublesome areas.
Pregnancy and labor can cause unwanted changes to the vaginal area. Labiaplasty removes stretched skin to restore form and function after childbirth.
This FDA-approved nonsurgical treatment improves tone and tightness in the vaginal area with carefully controlled heat.
Your Consultation
As you consider your mommy makeover options, there are a few key questions to ask yourself before moving forward with the process:
Am I done having children?
Am I done breastfeeding?
Which procedure options would help me reach my physical goals?
When you have an idea of the concerns you want to address with surgery, it's best to consult with a board-certified plastic surgeon about the most effective combination of procedures for your specific goals. During your consultation, you'll be able to discuss your desired results and work with your surgeon to create a custom treatment plan. Your surgeon will also be able to answer questions about the individual procedures you're having done to make sure you feel confident and excited about your decision.
To get an idea of the results you can expect, please visit our before-and-after photo gallery.
If you're ready to move forward with a mommy makeover in Houston, please contact us online or call (281) 282-9555 (Clear Lake), (713) 521-4777 (Houston), or (713) 436-2222 (Pearland) to request a personal consultation.