Conscientiously applying sunscreen to your face every day can significantly postpone the signs of aging caused by sun damage. But if you're not using sunscreen on your chest and décolleté (neck and upper chest), the delicate skin in these areas can reveal your age. Fortunately, skin rejuvenation procedures such as laser treatments at our Houston practice can help turn back the clock.
Chronic sun exposure of the neck and chest can result in brown spots, redness, rough texture, thinning skin, and wrinkles. The sun's UV rays gradually break down the structure of skin cells and reduce collagen and elastin, 2 proteins that help keep skin firm and smooth. Some skincare products you can use at home can help reduce the appearance of sun-related skin damage, but not produce the dramatic results you can get from nonsurgical med-spa treatments.
A range of treatments we offer can produce effective results that create smoother skin without the discoloration. Those procedures include:
Microneedling: This is a less-invasive alternative to laser treatments, but is still very effective at improving uneven skin tone and minimizing wrinkles and other signs of sun damage. It's become very popular in recent years as celebrities tout its results. The procedure involves using a hand-held device the size of a pen that's topped with multiple tiny needles. These needles create microchannels in the skin, which both trigger the body's natural healing response and enables the skin to efficiently absorb serums and creams.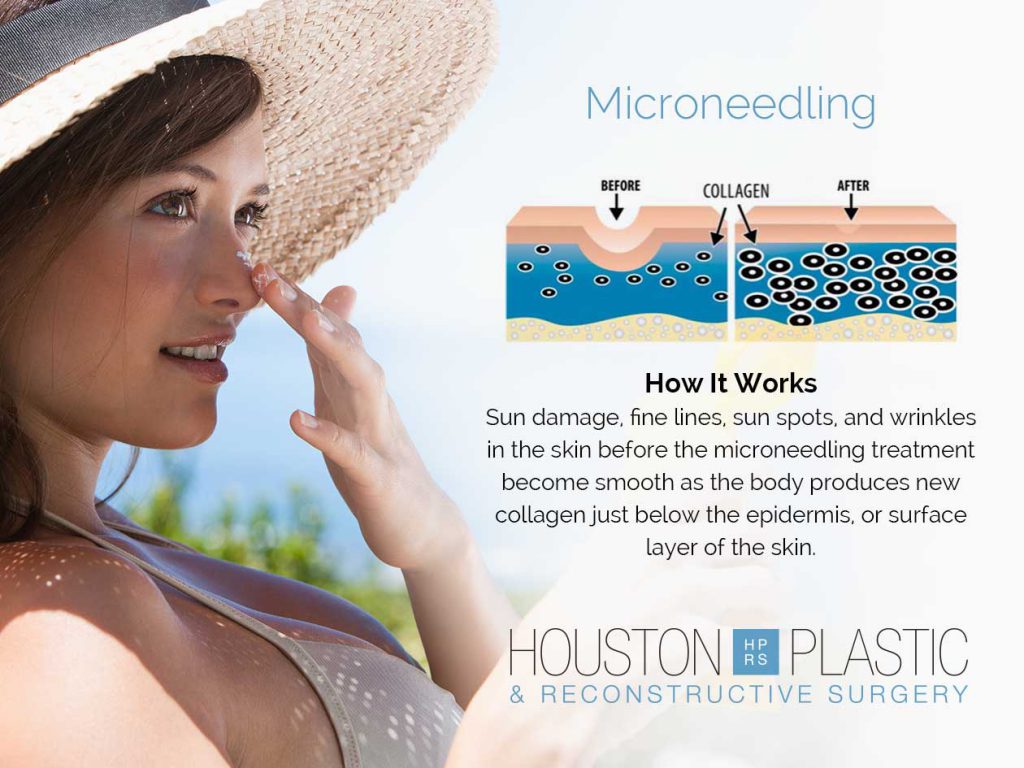 Chemical Peels: Customized chemical peels vary between light, superficial peels that work only on the skin's outer layer to deep peels that produce results similar to more aggressive laser treatments. Most of the patients we see benefit from light peels, such as the VI Peel™, to moderate peels that penetrate deeper into the skin but require about a week of downtime. A TCA peel is one of the most popular chemical peels we offer. This peel strips away dead skin cells and triggers collagen production to create smoother, refreshed skin.
Lumenis® Legend Pro™: Laser or light-based treatments are the workhorses for resurfacing the neck and chest areas. Lasers such as the Lumenis Legend Pro use radiofrequency (RF) energy to heat the skin with treatments tailor-made for each patient's specific needs. Intense pulsed light (IPL) procedures are similar to lasers. Both options can resurface the skin's upper layers or promote the regeneration of collagen and elastin fibers in the deeper dermis.
THERMItight®: This minimally invasive treatment also uses radiofrequency energy delivered just below the skin's surface using a small probe. In addition to promoting new collagen growth, THERMItight also reduces small pockets of unwanted fat. When used on the neck, THERMItight creates a sleeker, smoother neckline. Even though the treatment involves making tiny incisions through which the provider inserts the probe, sutures aren't necessary. Instead, small strips of medical-grade tape keep incisions closed during the healing process.
We can choose the ideal option that will address your skin's condition. If you're interested in reversing the signs of aging on your neck or chest (or face or hands, for that matter), contact us using the online form to request a consultation. You can also call us at one of our 3 Houston-area locations. Call (281) 282-9555 (Clear Lake) or (713) 521-4777 (Med Center/Museum District) to schedule an appointment.